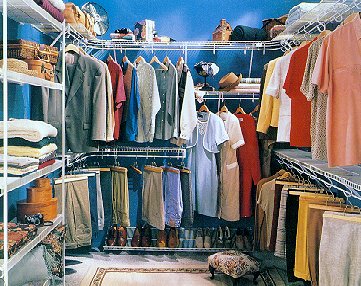 Looking for ideas? ...click here.
Our Storage Systems program offers the most complete quality line of ventilated storage products to solve today's total home storage needs.

Headlining the category is the stylish epoxycoated steel ventilated wire shelving which allows increased visibility in normally dark closets; is truly maintenance free; doesn't warp or collect moisture and is viewed as an upgrade and a proven selling feature in today's space-deprived homes.

In addition, we offer three types of shoe racks, door/wall storage racks, sliding basket systems and a complete line of accessories to serve the widest variety of residential and commercial storage needs. Additionally, the Deluxe Wood Laminate System delivers the widest range of high quality professional looking, customized closets.

Lee/Rowan also proudly introduces Crafted Oak Storage Systems. It's your choice of fashionable finishes-either Golden Oak or Pickle White.
Benefits include...



Ventilated wire shelving means no stale odors or mildew.

Patented "Free Slide" design allows uninterrupted movement of hangers for easier selection of garments

Epoxy coating is maintenance free, requires no painting and will not rust, chip, peel or turn yellow & sticky.

Patented FastSet Hardware provides sturdy installation.

Perfect for heavy-duty storage needs.

Tight Mesh wires keep small items from tipping over or falling through.
| Windows | Patio Doors | Mirrors | Storage | Showers | Basins |
| Door Hardware | Portfolio | Site Map! | Contacts |
Goldon Windows and Mirrors
5227 Auburn Rd.
Utica, Michigan U.S.A.
48317
Phone: 866.924.2284
©2002
Goldon
Windows and Mirrors